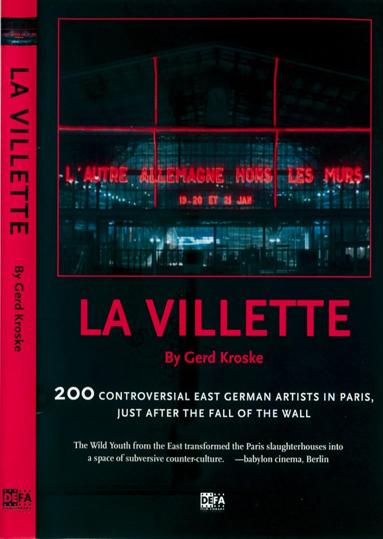 | Title: | LA VILLETTE |
| --- | --- |
| Country: | Deutschland 1990 |
| Format: | 35mm, 55 Min., DVD |
| Version: | Deutsche Fassung |
| Subtitles: | engl.Untertitel |
| Director: | Gerd Kroske |
| Camera: | Thomas Plenert |
| Editing: | Siglinde Kruschke |
| Production: | DEFA Dokumentarfilmstudio, Bernd Röder |
| Distributor: | Deutsche Kinemathek |
| Worldsales: | UMASS, Defa Film Library & defa Stiftung |
| Website: | |
Only two months after the fall of the Berlin Wall, in January 1990, almost two hundred controversial East German visual and performance artists—including Jürgen Böttcher, the Autoperforation Artists, AG Geige, Via Lewandowsky, Trak Wendisch, Conny Hege, Klaus Killisch, Helga Paris and Hanns Schimansky—presented works rarely shown in the GDR at the exhibition space in the former La Villette slaughterhouses on the outskirts of Paris. The unique, three-day exhibition, L'autre Allemagne hors les murs (The Other Germany Outside the Walls), was curated by East German art historian Christoph Tannert and French journalist Maurice Najman. In Kroske's documentation, historical footage from Georges Franju's 1949 film, Le Sang des bêtes (Blood of the Beasts), and texts from Les Chants de Maldoror (The Songs of Maldoror) by Comte de Lautréamont, blend to create a nuanced time capsule of an event that marked the end of an artistic era.
french synopsis below:
"LA VILLETTE"
Author: Gerd Kroske, Camera: Thomas Plenert
(55 Min., Color, 35 mm, Defa-Dokumentarfilmstudio 1990)
Janvier 1990:"200 artistes de RDA dans la Grande Halle" écrit la presse parisienne. Le mur de Berlin est tombé et en un temps record une exposition spectaculaire a été organisée à "La Villette". (« L'autre Allemagne hors les murs »)
Les voilà, les "jeunes sauvages" de l'Est: peintres, musiciens, danseurs, gens de théâtre, littéraires, performers, stylistes, photographes et cinéastes.
Pendant trois jours les anciens abattoirs deviennent le lieu d'exposition de la contre-culture subversive de l'Est. Et ce qu'on peut y voir est totalement différent de ce que représentait la politique culturelle officielle de la RDA jusque-là.
C'est d'une certaine manière la première mesure thérapeutique pour la perception endommagée par le réalisme socialiste. Une charge concentrée de dépression accumulée qui se présente sous forme de projets étranges a été catapultée sur le public parisien. Pour les artistes c'est la première exploration prudente d'un nouveau terrain, la première exhibition de l'art de la provocation développé et éprouvé sous un régime dictatorial puis en même temps l'accomplissement du rêve du premier voyage à Paris. Pour beaucoup d'entre eux ce sera aussi la dernière « fête » en espace protégé avant l'entrée sur le marché de l'art occidental.
Presse: